Play Along With A Pro Band Doing The Top 5 Blues Feels In The Most Common 5 Blues Keys…
Nothing helps you polish your skills better and faster than playing with a real band. With 5X5 Blues Jam Tracks you will be ready for any jam session situation.
What Do Jam Tracks Do For You?
Improve Your Timing

You can get better feel and groove playing with a band. This is the main thing that separates good players from just "ok" players.

Gain Valuable Experience

Let's face it… experience is the best teacher. With jam tracks you can try out new licks, rhythms, and ideas, without having to both any of your buddies.

Have More Fun!

We don't practice scales, chords, and rhythms just to work on things… we do it to play! These tracks were done in a professional studio with a professional band having a great time doing it. All you have to do is come along for the ride.
Why 5X5 Blues Jam Tracks?
Blues music tends to spend most of the time in 5 core feels:
Swing Blues
Slow Blues
Straight Time Blues Rock
Jump Blues
Straight Classic Rock And Roll
So if you are comfortable playing in those basic 5 feels, and you can play in the keys of C,A,G,E, and D, you can probably do a pretty good job playing over just about any blues tune in the book.
And that's where 5X5 Blues Jam Tracks came from. It's a professional band in a professional studio playing backup for you and you alone... whenever the mood strikes you.
5X5 Blues Jam Tracks comes on 2 CDs along with a short manual outlining some ideas on how best to use the jam tracks.
They're jam tracks – there's not much to it. Put them on and start jamming!
They only cost $29 but their value to your playing is immeasurable.
And if you don't totally love them, just let me know and you'll get a full refund, no questions asked. And you don't even have to send them back.
To get your copy of 5 X 5 Blues Jam Tracks just click the yellow "Add To Cart" button below with your preferred delivery method. Within moments of your order being complete you will receive access instructions to the Member Portal via email. So you can be playing the blues in just a few minutes from right now!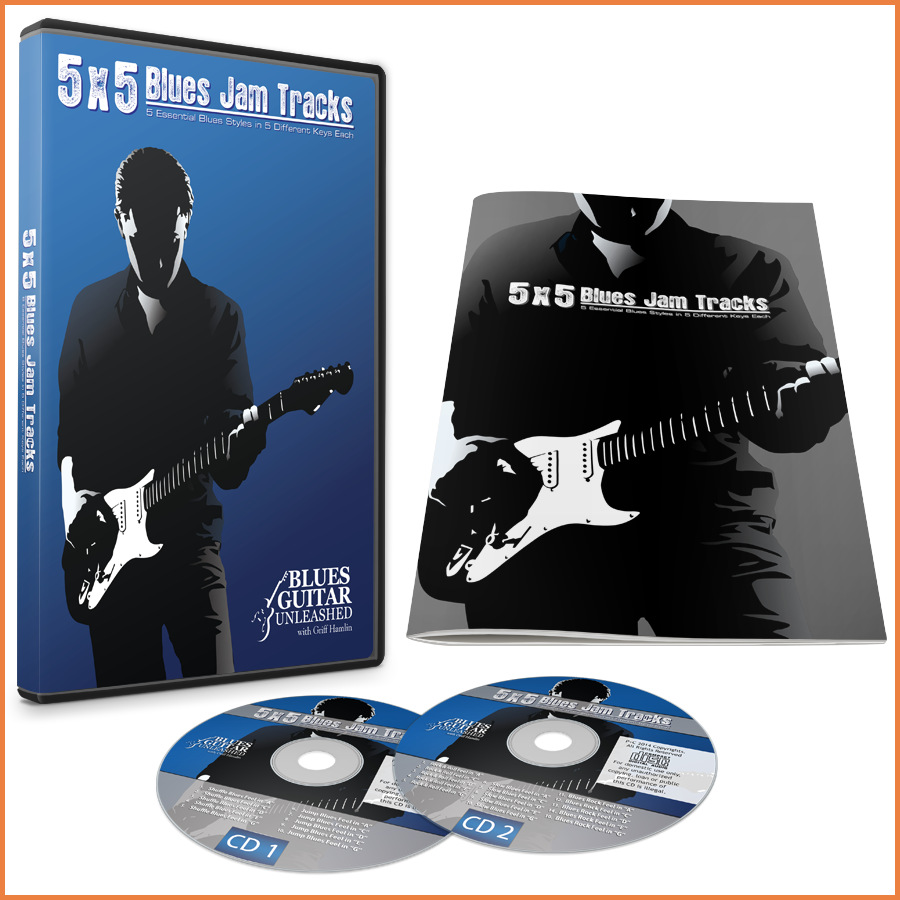 This is a one time payment, NOT a subscription. 3 Payment option may be available at checkout.